D'Antonio Automotive is proud to be a local, family-owned and operated auto repair facility. We provide repair and restoration services for classic, exotic, and luxury vehicles. We also specialize in Jeep service, repair, and outfitting. Whether you just want to install bigger tires, Overland through Moab, or take on the biggest and baddest trails, we've got you covered! Our level of service is outstanding, and we offer personalized services that you won't get at a dealership.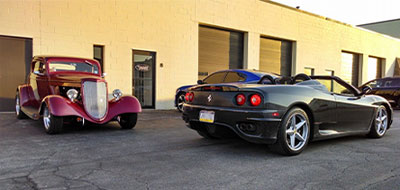 Our Famous Auto Repair Services
Customer come far and wide to our West Chester, PA garage to get their vehicles fixed properly and priced fairly by our team. Below is a short list of services we offer to our customers.
Classic car service and restoration

Exotic service

Luxury and European car specialists

VW - Audi - Lamborghini - Bentley

Aston Martin specialists

Jeep Specialists

Custom Jeep Service

4x4 Experts
Google Certified

Testimonials
Thank you, Tony, for fixing the stripped oil pan drain plug. Your expertise saved me so much money and effectively stopped my oil leak. Definitely your service reflects the motto Best Is Good Enough as your service is the best!
Bought my daughter a lifted jeep after trying myself and another shop to get it to go straight down the road and were unsuccessful diAntonio's got it straightened out found things that were wrong that we were unaware of great guys to work with my daughter's thrilled that her Jeep goes straight now LOL
Hey Tony, I'm guessing you 'Ducked' my Jeep last night, and left your card, in Skippack 😁 I met you a couple years ago, attending a Jeep event, where you gave a presentation about lifts and suspension. I tell everybody about your shop. Extremely knowledgeable, incredible work, and a helluva nice guy! Hope you're doing great!
Tony and his team worked on my Lamborghini. They had to remove the wheel and get through to the rear bumper to secure some exhaust tips. They were professional, knowledgeable and friendly. Couldn't be more happier