D'Antonio Automotive is proud to be a local, family-owned and operated auto repair facility. We provide repair and restoration services for classic, exotic, and luxury vehicles. We also specialize in Jeep service, repair, and outfitting. Whether you just want to install bigger tires, Overland through Moab, or take on the biggest and baddest trails, we've got you covered! Our level of service is outstanding, and we offer personalized services that you won't get at a dealership.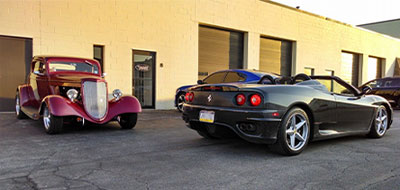 Our Famous Auto Repair Services
Customer come far and wide to our West Chester, PA garage to get their vehicles fixed properly and priced fairly by our team. Below is a short list of services we offer to our customers.
Classic car service and restoration

Exotic service

Luxury and European car specialists

VW - Audi - Lamborghini - Bentley

Aston Martin specialists

Jeep Specialists

Custom Jeep Service

4x4 Experts
Google Certified

Testimonials
Excellent service. Tony and all of the staff are knowledgeable and great to work with. D'Antonio was recommended to me as the place to go if you have a lifted Jeep. A dealership had botched my alignment and now it's very straight and smooth again. I highly recommend this shop.
let me start out by saying what an incredible experience I had. owners hands on and extremely welcoming. took time to listen to my concerns scheduled me following week. once jeep arrived the went over game plan and stuck to it. updated regularly and my bill was exactly what they quoted no games no bs e en went extra and fixed a unknown unrelated issue at no charge. will recommend to anyone I know
D'Antonio's is a LIFESAVER. Long story short, and a lesson learned the very hard way, we had work done at a previous shop, they Completely butchered the job. Enter Tony, Tony Sr, and the amazing staff at D'Antonio automotive. This process of repair required some necessary extended time in the shop. Within a day, the problems were diagnosed. During the repair process, CONSTANT contact and confirmation by phone calls and conversation at least on a daily basis. It was unbelievably refreshing to see a business actually care about their customers! To wrap up an amazing experience our jeep (with just over 100,000 miles, not a new car) drives BETTER than new. Support small business. Support D'Antonio Automotive. Thanks again!
Thank you, Tony, for fixing the stripped oil pan drain plug. Your expertise saved me so much money and effectively stopped my oil leak. Definitely your service reflects the motto Best Is Good Enough as your service is the best!